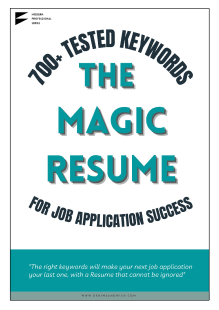 Use the right keywords in your resume to be more effective
Whether you're an entry level job seeker or you've got years of experience under your belt, having a resume which captures and effectively communicates your ability is an essential tool in your professional toolbox.
Recruiters receive tons of CVs and resumes. To get noticed, you've got to bring your personality and experiences alive. The Magic Resume e-book shows you how.
The Magic Resume e-book comprises over 700 tested keywords that recruiters pay attention to and love to see.
It presents you an opportunity to stand out from the crowd of job seekers, while putting your best foot forward.
Recruiters not only look at the format of your resume, but also 'listen' to the words you use to describe yourself and your experiences. This book may just be the missing link between you and your next opportunity.
The Magic Resume e-book aims to help jobseekers present their stories and experiences authentically and in an unforgettable manner to recruiters. It teaches the right action words to use in building the ideal resume and the passive words, jargons, and clichés to avoid.
Exclusive 30% discount for Resumey.Pro users. Use code: res30pro at checkout.